MEET
SATTABUT CHANKHRUEAKERD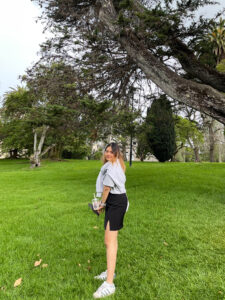 When did you start your foundation and when did you start your university?
I started my AUT Certificate in Foundation Studies programme in 2020, and I started my university at 2021.
Why did you want to study overseas in New Zealand? Why did you choose Foundation programme at UP International College?
I've always wanted to study abroad because I loved studying English when I was younger, and I believe that studying abroad and travelling to countries where English is spoken will help me improve my English skills.  I choose to study in New Zealand because I used to studied here before when I 15 and I knew that New Zealand is a safe country for international student, and people are nice. I chose to study at UPIC after finding out more information and discovering that the enrolment date at UPIC was compatible with my schedule. But, more importantly, UPIC is a diverse school with students from all over the world, and this could provide me with the opportunity to make friends from other cultures.
Why did you choose your current bachelor degree?
At first I was not quite sure what major I should do but I studied some basic economic at UP International Collage, and that made me realized that I could further my study in business field.
Can you share with us your study experience?
The most fun part of living in New Zealand is I have a chance to explore the beautiful city both South and North Island, and be able to made some new friends and travel with them. The challenges living here are the language barrier this is because English is not my first language and it was hard for me to adapt myself to English speaking country for the first few months. Moreover, the different culture was one of the challenges for me as I have to change some of my believe to suitable with this new culture.
What are the challenges of studying as an international student?
The most challenge for me would be the language barrier because of my thick accent. Moreover, it took me quite some time to be confident and speak with other people but everyone here is so patient and willing to understand me.
Did you feel supported by your teachers and the staff from UPIC?​
UPIC is definitely the place where every staff members and teacher will helping you out when you are struggling. Teachers here are always trying to help me and push me to become the best in my academic journeys. They are always available and answer any question that I had regard to the studying.  Moreover, the staff here was also helping me on my application for AUT and they were making sure that my application went smoothly.
Can you describe your everyday schedule with us?
My everyday life is quite boring haha. I be able to choose my time table for the class to suitable with my personal life schedule so, I always end up have a free time in the afternoon. Therefore, my everyday schedule would be studying in the morning and go to café or library in the afternoon to revise all my study. I always go to gym or hanging out with friend when I have free time.
Would you recommend other students to study abroad in New Zealand?​
Big YESSS I definitely recommend student to study here as there are a high rank University in the country and there are everything for everyone in term of study. the country itself is also safe and pretty convenience to travel around, and there is not hard for uni student to find a part-time jobs.
Do you live in a homestay/accommodation organized by the university?
I was staying in University's dorm for my first year of university. Which went well as I was able to make some friend who were my flatmates at the time. The process with the accommodation team was so easy, and super-fast and there will be other fellows student who live in the same dorm always looking after you.
What is the most exciting thing you have done in New Zealand?​
Definitely my Queenstown trip where I hike the Queenstown hills for 2 hours. It was super tired but it definitely worth to went up and experienced the view of Queenstown.
What is the next steps for you, career-wise and in education? ​
My plan is to getting an internship in business field and be able to continue my career in that particular company that I will work for. In term of education, I would apply for my honour graduate program in AUT for further my education.
If you have any advice for other students who also want to get an overseas education experience, what would it be?​
For anyone that want to study in any oversea country and feel scare or lonely. You are not alone, there will be other international student who relate to this feeling and you will get through it eventually. Study oversea is not hard and it is not easy either like everything else in your life. You just have to give yourself a try and believe in yourself that you can do it.
Name: Sattabut Chankhrueakerd
Gender: Female
Age: 21 years old
Nationality: Thailand
Hometown: Bangkok
Current location: Auckland, New Zealand
Foundation programme you studied: AUT Certificate in Foundation Studies at UP International College
Current University: AUT (Auckland University of Technology)
Current degree programme: Bachelor of Business